Our Process :
MEET:
Come see us in our showroom! Let's talk about your vision to create a unique design that will make your dream come true.
HOME VISIT:
Free at home consultation to measure, photograph and discuss your wish list at your convenience.
REVIEW:
Schedule an appointment with your designer to review your kitchen design solutions using the latest computer technology. Timetable, budget and payment schedule is also presented.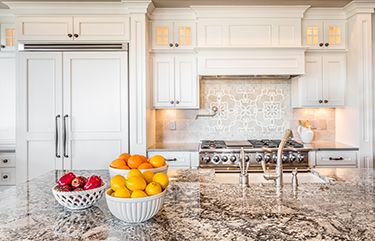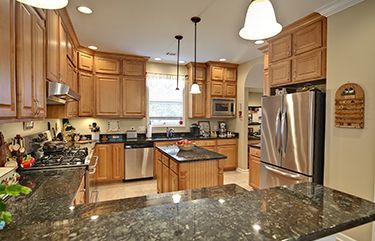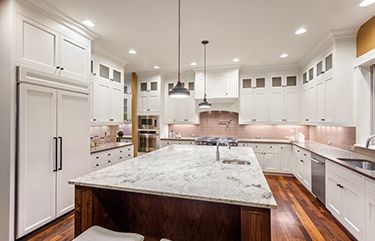 Benefits of using FerrariKitchens.com for your remodeling project:
We develop a relationship with our clients from the beginning.
We will get to know you and your family to find out what is important to you which helps us to meet your expectations.
Our bid process is very detailed which helps ensure accuracy.
Our process begins with a detailed meeting between you and FerrariKitchens.com designer and project manager, so, we can all understand the scope of the work during the early phases of the bid process. The results are that the final bid will include all requested elements of the remodel and be priced accordingly.
The final proposal will be complete with a detailed scope of work for each stage of the construction process.
This document will ensure that you will know what is and is not included in your construction proposal before we start your project.
We are fully licensed, insured and EPA certified.
Our certifications will make sure your house is protected from any damage and there will not be fines assessed for work being done by a non-EPA certified contractor if your home was built prior to 1979.
We have a wide range of quality, recognizable products in our showroom to incorporate into your remodeling project.
Our staff is able to help our clients choose products which fit both the design element and your budget. In addition, we are able to extend our showroom discount to you on the products selected.
We provide each client with a schedule for their projects.
This will help you plan your schedule, help us work around your daily needs and project accurately when the project will be completed.
With large projects we will conduct weekly job site meetings to update clients, construction crews and vendors to review any modifications or additions that may need to be addressed.
We believe that strong communication between client and us makes for a successful product.
Our showroom is open six days a week for your convenience.
We believe that strong communication between client and us makes for a successful product.
Our showroom is open six days a week for your convenience.
We hold daily staff meetings with all key employees where we cover the status of all projects under contract.
This allows any staff member to have the ability to either directly answer any of your concerns or within a timely manner, find you the response you require.
We have been a licensed contractor for over 30 years with a significant portfolio of satisfied customers.
Our 30 years success is due to the fact that we value customer satisfaction. It is important to us that you and your home are well taken care of during this process.
We always remember in all phases of every project how important our customers are to the success of our business and our reputation in the community.
FerrariKitchens.com employs highly qualified employees to supervise our on-site construction.
It is our goal to have each project run seamlessly, giving you the peace of mind that we are getting the job done professionally. Meeting your expectations is our top priority.
Why should you choose Ferrari's Kitchens and Baths, Ltd.?
At Ferrari's our goal is to make sure that each client is completely satisfied with every aspect of our service, not only the quality of our work but the complete remodeling experience.
Peace of mind that we will service your needs even after the project is completed.
We are only a phone call away to answer any questions you may have : 914-347-8200.