Inspiration
41 Fresh Kitchen Trends. The Latest Design Trends for Kitchen Cabinets, Colors, Appliances, Flooring and More
Want to update the look of your kitchen? Maybe you're interested in remodeling your kitchen, or you're building a brand new home. Or perhaps you just want to upgrade a few important details in your existing kitchen décor. If you're freshening up your kitchen in any form, before you spend any money, it pays to get informed about the current kitchen design trends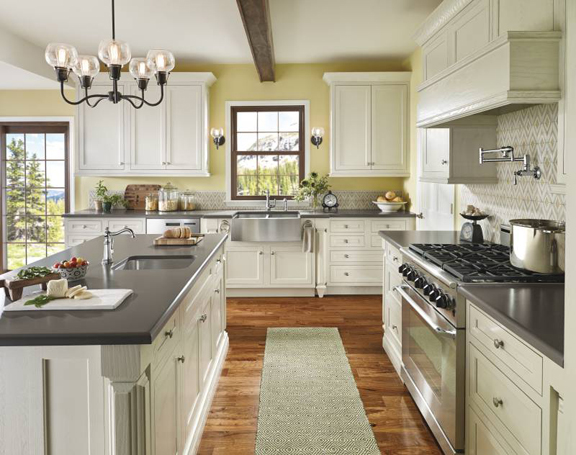 This picture gives you a glimpse at some of the hottest kitchen design trends:
Transitional Style.
Many of the elements in this kitchen are classic in style. For example, the Moen kitchen faucet is noteworthy for its traditional styling. However, the overall design theme of the kitchen is transitional thanks to the inclusion of some contemporary elements, like the up-to-date kitchen island
Farmhouse Style.
This kitchen is an example of what the ideal farmhouse kitchen could look like.
Hardwood Floors in the Kitchen.
In times past, tile and linoleum were popular surfaces for kitchen flooring. Nowadays, tile and linoleum are still popular in many areas of the USA, but in the trendiest neighborhoods, hardwood floors have overtaken tile as the most popular type of flooring in the kitchen.
White in the Kitchen.
White cabinets are an important carryover trend from years past, and they remain
popular.
Photo courtesy of Moen.com.
Kitchen Style Trends
1. Transitional Style Kitchens
A transitional kitchen is one that incorporates elements that are both traditional and contemporary. Transitional was an important design style for kitchens last year, with many homeowners remodeling their kitchens to reflect this style. We expect to see transitional kitchens remaining popular in this year.
2. Shaker Style Kitchens
"Shaker style" is a style that fits within the broader transitional style. It is a minimalist look that is more traditional than modern style, but shares some common characteristics such as clean, simple lines and an uncluttered appearance.
3. Contemporary Style Kitchens
Last year, transitional style had a slight edge over contemporary style; however, according to the National Kitchen and Bath Association, contemporary style was surging in popularity and was a close second to transitional style in terms of demand. As this year progresses, we expect to continue seeing strong demand for contemporary style kitchens.
4. Traditional Style Kitchens Declining in Popularity, but Still Important
In many areas of the USA, the traditional style declined in popularity last year. There are pundits who have even been so bold as to declare "the traditional style is going away."But is it really, truly going away? We think not.
On one hand, it would be unlikely for this trend to reverse itself as this year progresses. On the other hand, we see no evidence that the traditional style is dead; quite the contrary. There's still plenty of demand for it, and demand is unlikely to completely disappear during this decade. We've come to this conclusion since we're aware of many older homes that were built in the traditional style. We have to wonder, when owners of these older homes are in the market for upgrades, are they all going to bulldoze and build new contemporary style homes? We think this is unlikely. Surely some of them will choose to remodel instead.
If you're a homeowner in search of style trend ideas for remodeling your own vintage home, here's something crucial to be aware of: It's more important for your home's design to be harmonious than it is for your home to be upgraded with all the latest trends. For example, if you're renovating an 1890s farmhouse, it doesn't make any sense to remodel it with ultra-contemporary furnishings. It's totally acceptable, and even desirable, for you to embrace the traditional style for the home's new look.
It's worth noting that multiple prominent manufacturers of kitchen faucets and fixtures have released new product offerings in the traditional category within the last year. This is an indication of how much demand does still exist for kitchen elements in the traditional style. It takes a significant amount of demand to justify the design and product development costs for new offerings such as these.
Demand for traditional style kitchen fixtures is driven in part by homeowners remodeling older traditional style homes. No matter what the current trends are, the style of a home still dictates what its furnishings should look like to a significant degree.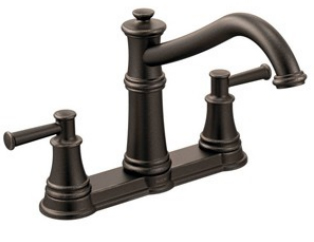 Moen is one of the manufacturers that recently released a brand new traditional style kitchen faucet design. This product is known as the "Belfield" kitchen faucet. It is available in several finishes, including oilrubbed bronze (pictured) plus chrome and spot-resistant stainless steel. Photo courtesy of Moen.com.
5. Farmhouse Kitchens
Farmhouse style isn't anything new, but for this year it's the au courant take on country style.
Kitchen Remodeling Trends for this year
6. Gourmet Kitchens
Many homeowners want to stock their kitchens with all the amenities it takes to cook healthy, delicious gourmet meals. Those who are remodeling their kitchens are making space in both their floor plans and their budgets for these amenities.
7. Home Offices, Docking Stations and Work Stations in the Kitchen
Last year, the National Kitchen and Bath Association reported that desk or home office space has been created in a majority of new kitchens being designed by their members — approximately two-thirds of them. This space is also likely to include a docking station for recharging mobile devices.
8. The Decline of the Traditional Kitchen Table
When remodeling older kitchens this year, many homeowners continue to replace their kitchen tables with other choices such as kitchen islands or additional counter space.
Among those who are choosing to keep tables in their kitchens, pub tables, tall gathering tables and counter height tables are trendy choices for this year. These tables are characterized by their height; they are typically 36 to 42 inches tall, which is taller than the standard kitchen table height of 30 inches.
9. Open Floor Plans
Open floor plans aren't new by any means; this is a mature trend that is still current for this year
See Also: 8 Ways to Get the Best Value From Your Kitchen Upgrades
Open floor plans aren't new by any means; this is a mature trend that is still current for this year.
See Also: 8 Ways to Get the Best Value From Your Kitchen Upgrades
Kitchen Color Trends for this year
10. White Kitchens
White is currently the most popular color for kitchens, particularly for kitchen cabinets. Other popular kitchen elements include white kitchen tile backsplashes and white appliances.
11. Gray Kitchens
Gray is still a noteworthy color for every room in the home in 2016, but it's an especially popular choice for decorating the kitchen.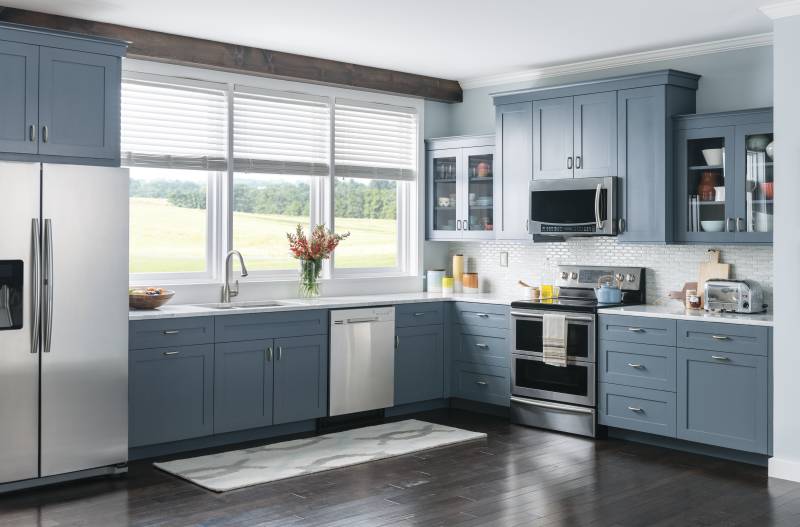 Gray Color Schemes Are Trendy for Kitchens in 2016. Photo Courtesy of Moen.com.
12. Black Kitchens
Black is popping up in many kitchens, and many manufacturers are banking on black to be a noteworthy color for kitchens this year. Kitchenaid is a manufacturer that's betting on black as an up and coming color trend in the kitchen, as evidenced by their recent release of a brand new collection of black stainless steel kitchen appliances.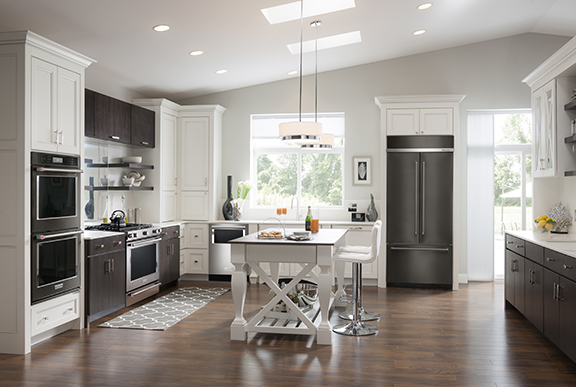 KitchenAid's Black Stainless Steel Appliances Are Current for this year. Photo Courtesy KitchenAid.com Since an all black kitchen would be dark and overwhelming, it's ideal to pair the black with another lighter color, perhaps white, a pale shade of gray or a light grayish blue.
13. Blue Kitchens
A range of blues are currently popular in this year, and they're all workable for use in decorating the kitchen. Navy blue and lighter blues pair beautifully with white, gray or other colors to complete the look.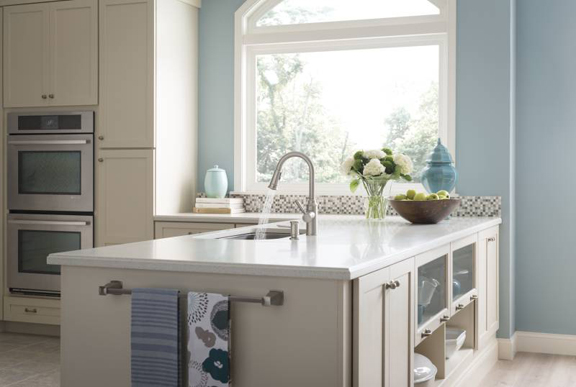 This blue and white kitchen is on-trend for this year. Photo Courtesy of Moen.com.
14. Color Blocked Kitchens
Two-tone and color blocked kitchens were trendy in 2015, and we expect to see them remain popular this year as well.
See Also:• Color Trends • Colors
15. Shaker Style Kitchen Cabinets
Shaker style cabinets are characterized by their simplicity. They are noteworthy for their lack of ostentation. For those who want wooden cabinets, the Shaker style can be a great way to showcase the natural beauty of the wood. For those who prefer the clean look of a white painted cabinet, Shaker style cabinets are also a top choice. Either way, these cabinets tend to have simple recessed centers, and they are noteworthy for their lack of ornate mouldings.
This type of cabinet works well in just about any style of kitchen. It can look traditional, modern, contemporary, transitional or retro, depending on the hardware you choose and the other surrounding elements.
16. Frameless European-Style Kitchen Cabinets
This type of cabinetry is characterized by its lack of frame and easy accessibility.
17. Pullouts and Rollouts for Kitchen Cabinets
Decluttering is a hot trend this year. If you want to declutter the kitchen, pullouts give you options for getting organized and maintaining a clean, uncluttered look. One example: In the past, you might have stored your kitchen knives in a butcher's block knife organizer on the kitchen counter. This year, you can opt for a butcher's block knife organizer that's built into a pullout for your kitchen cabinet, so it's no longer cluttering up your countertop.
18. The Addition of Lazy Susans in the Cabinets
It makes sense to install lazy susans in your kitchen cabinets to help you organize and find things in hard-to-reach places.
19. Open Shelving
Open shelving has its advantages; it eliminates the "out of sight, out of mind" phenomenon. Storing your treasures in the open can save you time because you won't need to hunt around for things hidden behind closed doors. We think this trend has its downsides, too. This is a trend for people who are consistently able to keep up with the dusting and straightening up around their places. If that isn't you, think twice before abandoning the safety of your cabinet doors.
Trendy Kitchen Appliances for this year.
20. Cooktop and Wall Oven Combinations
Homeowners and home builders are embracing the wall oven in increasing numbers, as evidenced by the growth of this sector of the appliance market.
21. The Decline of Freestanding Stoves
Freestanding stoves have been hugely popular in the past, and they remain so this year. However, their market share is declining.
22. The Decline of the Side by Side Refrigerator-Freezer
While this is the most popular refrigerator / freezer configuration, it has been declining in market share in the recent past.
23. Freezer-on-Bottom Refrigerators
The new up-and coming trend in refrigerators is the freezer-on-bottom configuration. While this configuration commands a minority of total sales, the sales volume is growing.
24. Wine Refrigerators
Wine is trendy right now, and wine refrigerators are a tangible reflection of this trend. Wine cellars are currently popular with affluent homeowners who have sizeable wine collections, but an entire wine cellar isn't necessary for the majority of homeowners. For homeowners who don't hoard large quantities of wine, a wine refrigerator in the kitchen typically offers sufficient storage space. Most have sufficient capacity to store enough wine to satisfy casual drinkers who enjoy a bottle with dinner on occasion.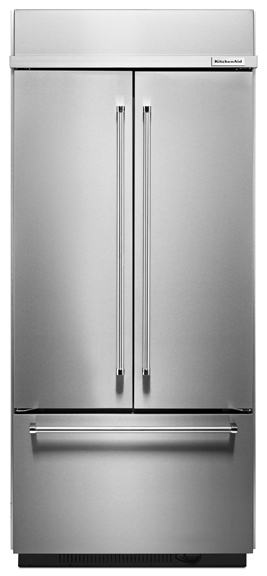 The Freezer Is on the Bottom in This Trendy KitchenAid Refrigerator. Photo Courtesy of KitchenAid.com.
25. Steam Ovens
It isn't unusual for food trends and kitchen trends to converge. The steam oven's rise in popularity coincides with the recent trends for enjoying real food and consuming locally grown organic vegetables and produce. Steam ovens are appealing to homeowners who frequently prepare rice, steamed vegetables, fish or other moist dishes. For most chefs, a steam oven isn't an acceptable substitute for a conventional oven. It isn't an option for dishes that need to be crispy or dry.
26. Double Appliances
There are homeowners who are installing multiples of the same type of appliance in their kitchens. For example, some homeowners are installing double dishwashers in their kitchens. As noted above, some also have wine refrigerators in addition to ordinary refrigerators, or steam ovens in addition to conventional ovens.
27. Smart Appliances
Imagine you look at your phone to check your latest text message. The text is from your oven. It wanted to let you know that it has just finished cooking your dinner. That could happen to you in 2016 if you decide to purchase a smart oven that's wired with the capability to text, tweet on Twitter and perform other similar communication tasks. Smart homes, in general, are predicted to gain traction this year. I personally won't be jumping on the trend, since I like to do things old school. Plus movies like Minority Report and The NEt did a great job of illustrating some of the possible downsides to this type of technology. But please don't let my lack of enthusiasm deter you from learning more about these ideas if you find them interesting. Our article about smart home
automation has more details.
Kitchen Countertops
28. Granite Counter tops Still Going Strong for this year
Those of you who follow trends are aware that granite counter tops have been popular for what seems like ages now. Some of the trendiest trendsetters have moved away from granite counter tops, but the home building and home buying markets as a whole are still embracing them. As of mid 2015, the folks at Home Innovation were reporting that granite was gaining in popularity for kitchen counter tops, at the expense of tile, laminates and solid surfacing. Even if this trend does happen to slow as 2016 unfolds, it's a given that there'll still be plenty of demand for granite in the kitchen
29. White Granite Kitchen Countertops
White granite doesn't always read as white; it often takes on a grayish appearance. This makes it an ideal surface for use by those who are embracing the gray trend, and also for those who are installing black or black-and-white kitchens. For more information about white granite, check out our article about the white granite trend for this year.
30. Quartz Kitchen Countertops
While quartz has a small percentage of the total overall market share for kitchen countertops, the demand for quartz counters is growing. This is definitely a trend to watch for this year and the years ahead.
Best Kitchen Sinks
31. Trough Sinks
A long trough style sink could be just the right look for those whose kitchens incorporate an industrial aesthetic.
32. Granite Kitchen Sinks
Home Innovations has reported that, sales of granite and stone kitchen sinks were increasing at a more rapid rate than sales of any other type of sink material. It's worth noting that this organization reports statistics relating to construction of new homes. We interpret this to mean that strong sales of granite sinks last year is likely to result in a proliferation of new homes on the market featuring granite sinks this year.
33. Single Basin Kitchen Sinks
This year, we're witnessing a comeback in demand for the single basin kitchen sink. Home Innovation reports that SFD installations for this style of sink have been steadily increasing over the past decade, having climbed to 20% up from 5% by mid last year.
34. Enameled Cast Iron Kitchen Sinks
In the recent past, these sinks suffered a brief decline in demand, with the low in demand happening around 2009 and coinciding with the recession. By all appearances, they're making a comeback in 2016, with rising sales driven by new residential construction projects.
Kitchen Flooring Trends
35. Hardwood Flooring in the Kitchen
In many areas of the USA, hardwood flooring is currently more popular than tile flooring in the kitchen
36. White Washed Hardwood Flooring
Lighter white washed hardwood floors look fantastic with many of the 2016's trendiest color palettes.
37. Espresso Brown Hardwood Flooring
In the past decade, dark espresso brown has been a trendy color, and it has been a popular color choice for hardwood flooring in kitchens. This has been a trend with major staying power; it was noteworthy in 2008 or so, and as of late 2015, some homeowners were still installing espresso colored elements in their kitchen remodeling projects — including flooring, kitchen islands and accents.
We urge caution in jumping on this trend at this point in its life cycle. By all appearances, espresso flooring is still quite popular — but it is inevitable that this color will eventually decline in popularity. When it does, anyone with espresso colored hardwood floors will be faced with the choice between modifying the color if possible, ripping out a perfectly good floor that still has plenty of life left in it, or maintaining and decorating around a floor that looks dated.
Additionally, espresso floors tend to require constant attention to appear clean and dust free.
38. Gray Hardwood Flooring
Gray is trendy right now, and there are gorgeous examples of new gray finishes for hardwood flooring popping up all over the place. However, the same logic applies. In another decade or so, the gray trend will likely be passé. When you decide whether to embrace the gray trend in your current kitchen flooring for this year, please take into consideration how soon you'll want to redo your floor; design accordingly.
39. Blonde Hardwood Flooring
If you want a light blonde colored hardwood floor, look for maple wood flooring, red oak flooring, white oak flooring or something similar. These are all fantastic choices for complementing the trendiest looks in current kitchens for this year.
40. Satin Finish for Hardwood Flooring
If you don't have a strong preference for which finish to apply to your hardwood flooring, you might want to try a satin finish. Satin is both practical and beautiful; it hides footprints, dirt and scratches and it's pleasing to the eye. It's been trendy for quite awhile now, and we expect the trend to carry over into this year and beyond.
41. Outdoor Kitchens Still Trendy for this year
The popularity of outdoor kitchens is a carryover trend from previous years that is still going strong for this year.
So that's the scoop on 41 of the top kitchen trends we've uncovered for this year. We hope this list gives you some helpful insights into what home builders and homeowners are prioritizing in their kitchens, and gives you actionable ideas you can use if you want to remodel or decorate your own kitchen for this year and beyond. References: decoratorswisdom.com.